Captain Gwladys Nocera has announced the 12 girls that will be representing Europe at the 2023 PING Junior Solheim Cup, which will take place at La Zagaleta in Spain from September 18-19.
Following the conclusion of the R&A Girls' Amateur Championship, the final qualifying event, the top six ranked players were confirmed to the team.
Spain's Rocío Tejedo topped the ranking with 287.50 points and will be playing in her first PING Junior Solheim Cup.
"It's a dream come true and it has been the highest of my goals this season," said Tejedo. "Being in the team with some of the other Spaniards and other very good players from Europe will be just amazing. "It will also be great to experience the full Solheim Cup week and to meet new friends from the US PJSC team. Overall, it will be an exciting experience and we will do our very best to win."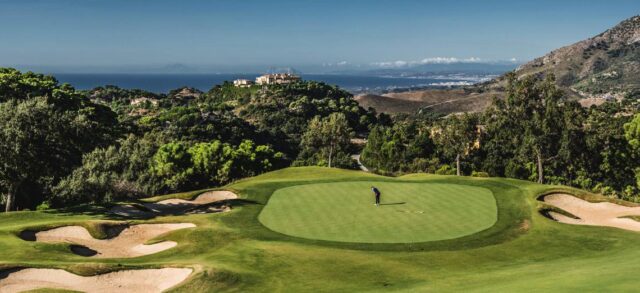 Swedish duo Nora Sundberg and Meja Örtengren finished second and third in the rankings, and will each be playing in the competition for the second time having been part of the winning European team in Ohio in 2021. Germany's Helen Briem will also be making her second consecutive appearance having finished qualification in style winning the R&A Girls' Amateur Championship at the weekend.
Briem explained: "Playing in the PJSC is such a unique experience. In 2021, I was quite a young girl and everything was new, huge and overwhelming. It was amazing. I am so happy to be part of the team again with more experience this year. It's going to be another awesome week."
The final two automatic qualifiers were Spain's Andrea Revuelta and Belgium's Savannah De Bock, both were part of the winning team last time out.
Nocera, alongside Vice-Captain Nora Angehrn, had six captain's picks where the criteria used was the PJSC rankings alongside results from all amateur events, the European Women's Amateur Golf Ranking and input from the coaches of European national teams.
Spain will have a total of four players in the team with Cloe Amión and Anna Cañadó being chosen as picks. Italy's Francesca Fiorellini and Czechia's Denisa Vodickova will be making their second appearances in the contest, and they will be joined by Switzerland's Yana Beeli and Sweden's Josefin Widal.
A total of seven players from the winning team in 2021 where Europe triumphed 13-11 return for the 2023 PING Junior Solheim and the whole team will be aiming to win back-to-back titles.
This will be the 12th edition of the PING Junior Solheim Cup, which has grown from strength to strength since it started in 2022, and the first time it will be played in Spain. With the support of PING and the Solheim family, the competition has developed a reputation for showcasing the best female juniors who go on to become world-class players.
Nocera commented: "Congratulations to all the players making the 2023 PJSC European Team. It is an honour to lead such an experienced, strong and diverse team. Some players won in 2021, which is invaluable experience, and the team will be represented by 6 nations which shows how strong European golf is becoming. I cannot wait to meet up with all of you and get ready to fight for a second win in a row! Let's go Europe, Vamos!"