It's been a roller-coaster 16 months for all those players who signed up to the LIV Golf League, including Englishman Richard Bland, whose 25-year career on the European Tour had looked to be winding down before opportunity came knocking. In an exclusive interview with GN Editor Nick Bayly, Richard reveals how the new formats have helped reenergised his game and why he's looking forward to continuing his  LIV journey before thoughts turn to a senior career
For a man with such a beige sounding surname, Richard Bland's life has been anything but over the last two years, with the 50-year-old Surrey-based tour pro having won his first European Tour event at the end of 2021 amid emotional scenes at The Belfry, and then, just 12 months later, defected to the controversial LIV Golf Invitational Series.
Richard Bland's Career
Roll the calendar back two years and we find the then 48-year-old Bland, the veteran of 478 European Tour events, and the very epitome of pros who are often unfairly described as 'journeymen', facing a play-off against young Italian star Guido Migliozzi for the 2021 British Masters title. Moments later, after winning the play-off, Bland broke down in tears when the weight of the moment overcame a man who had toiled away unrewarded – in terms of wins – for two over decades. Interviewed by Sky Sports on-course analyst Tim Barter, who also happened to be Bland's coach, and it wasn't surprising to see the pair blubbing like babies by the end of the post-match chat.
"I've no plans to get back on the DP World Tour"
Buoyed by his victory, a newly confident Bland proceeded to enjoy the season of his life, finishing third in the following week's tournament in Denmark, and then bagging six further top-10 finishes in a season that saw him finish 11th in the Race to Dubai, and earn almost €1.2m in prize money, taking his career earnings to almost €8m.
Taking that form into 2022, Bland almost returned to the winner's circle again at January's Dubai Desert Classic when birdieing the last two holes to force a play-off against Viktor Hovland at Emirates Golf Club. However, it was the talented young Norwegian who took the title with a birdie at the first extra hole. That near-miss saw Bland's world ranking rise still further to a new career high of 53, and within tantalising reach of gaining instant access to the major championships and an invitation to the Masters.
Sadly the invitation was not forthcoming, but he did earn a debut appearance in the WGC Matchplay in Texas in March, where a tied 9th finish – he won two of his three group matches and beat Lee Westwood before losing 3&2 to Dustin Johnson in the round of 16 – further raised his profile and showed that at the age of 49 he still had what it took to mix it with the best. He also teed it up at the US Open, where he acquitted himself well enough with a tie for 47th, although he missed the cut at the PGA Championship and the Open Championship. 
Just two months after his WGC appearance, Bland, although not knowing how the future would play out, probably thought he had given up on his dream of ever playing at Augusta, and probably another PGA Tour or DP World Tour event, when signing for LIV Golf.
When Bland Joined the LIV Tour
It was a move that took many of Bland's supporters by surprise, but in terms of cold, hard financial terms, was a completely understandable decision. Despite his heroics over the previous 12 months, and the decent prize haul, there was no future certainty over where his career was heading, and the incentive for a near 50-year-old to join a circuit where the minimum guaranteed pay out at each event was $125,000, and a first prize of $4m, proved too hard to resist for a man who was looking to secure his family's future at the backend of his playing career. 
Needless to say, like all the other players who signed up to the start-up Saudi government-funded circuit, Bland came in for no shortage of criticism for joining Greg Norman's merry band of men, many of whom were regarded as past their sell-by dates when it came to competing on the world stage – although that proved somewhat wide of the mark when LIV golfers filled four of the top six places at the Masters and Brooks Koepka won last month's US PGA Championship. That said, the age of the players who joined LIV, many of whom were in their late 40s and several, including Phil Mickelson, well into their 50s, gave rise to the view that players were cashing in on their status of yesteryear rather than the careers they had in front of them.
While many LIV Golf players chose to resign their membership of the PGA Tour and/or the DP World Tour, rather than being accused of trying to have their cake and eat it, Bland was among a number of European and English golfers who, although well within their rights at the time, chose to hang on to the dual status for as long as he could, plying their trade on both the LIV circuit and the DP World Tour when their schedule allowed. This resulted in some ugly scenes in locker rooms, and more than a few heated exchanges on driving ranges and on social media as the new world order – or so it seemed at the time – took shape.
Despite being a vocal critic on Twitter of how the DP World Tour had ceded power to the PGA Tour through its new so-called 'Strategic Alliance', Bland played in the BMW PGA Championship at Wentworth, the Dunhill Links Championship at St Andrews and the season-ending DP World Tour Championship in Dubai, and he has also played in Abu Dhabi and Dubai this season – finishing 8th and 10th respectively – before the expanded 2023 LIV Golf schedule kicked back into action in February, although he, along with all of the many of the other European LIV golfers, has since resigned his DP World Tour membership.
Did Richard Bland Join LIV for the Money?
Bland has certainly made no secret that he joined the LIV Golf circuit for the money, but also for the opportunity it gave him to play a reduced schedule – LIV Golf has a schedule of 14 events in 2023, compared to the average 26-30 events he played each year on the DP World/European Tour – allowing him to spend more time with his family.
He has enjoyed some healthy returns on the breakaway circuit, with a best-placed finish of fourth in the 48-player field in Bangkok last year earning him a hefty $1.17m pay out – more than twice as much as he collected when winning the British Masters – and a total of $4.9m from the 15 events he has played in to date.
About Bland Off of the Golf Course
Although born in Burton-on-Trent in Staffordshire, Bland has spent most of his 27-year life as a tour professional based in Southampton and was a regular visitor to nearby Stoneham Golf Club, where the club named its new half-way house in his honour last year. He now lives in Woking in Surrey, and is a member at The Wisley, where he helps keep his game shape between LIV events.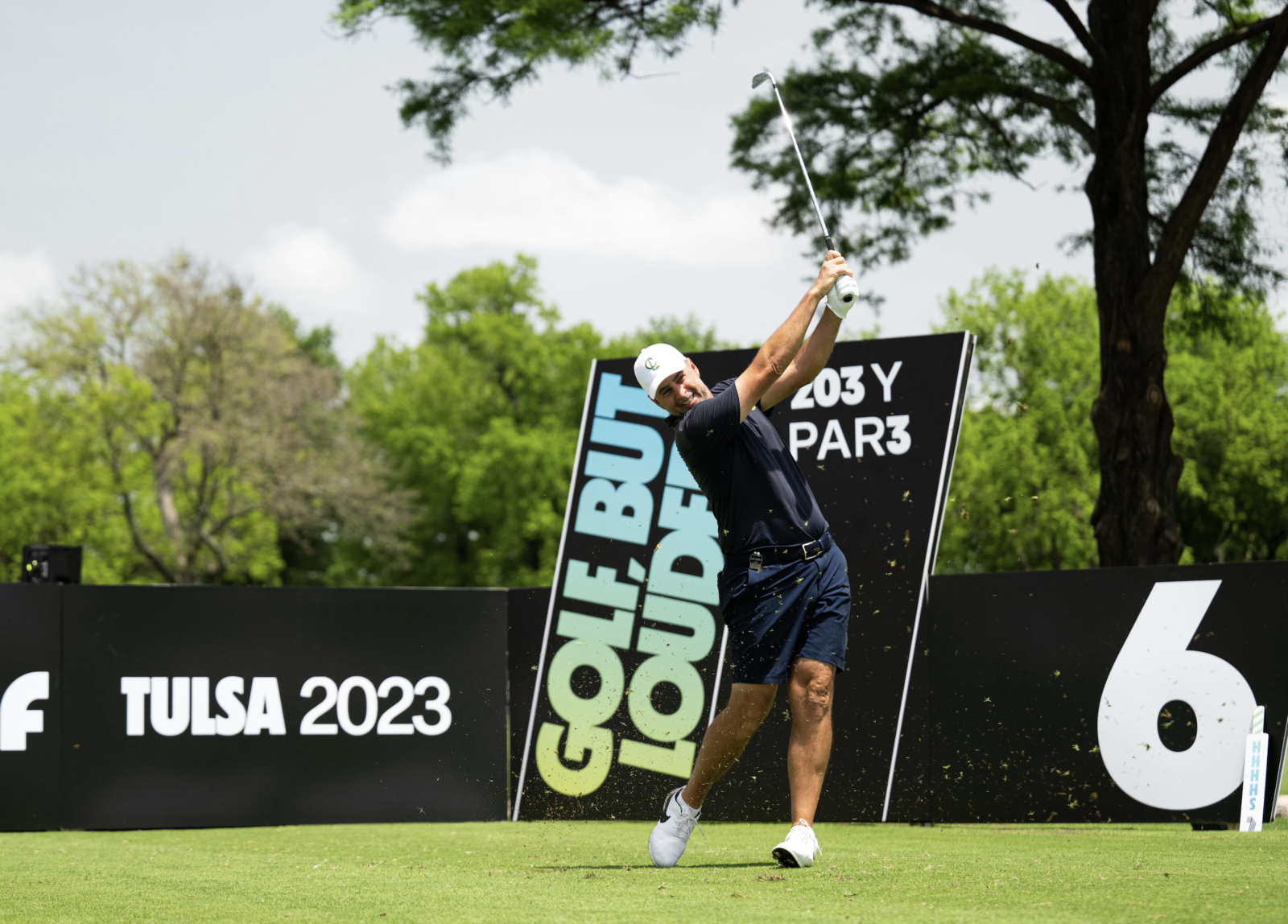 Speaking to Bland ahead of his appearance at LIV Golf's only UK event, which once again, is being staged at Centurion Club in Hertfordshire next month, and in light of the recent merger between the PGA Tour, the DP World Tour and the Saudi PIF, which bankrolls LIV Golf, I asked him what he made of the decision and how it would impact on his schedule going forward?
"To be honest, there is still so much that we don't know about how things will pan out that it would be foolish to even try and speculate how the golfing landscape will look next year," he tells me. "I don't think it will even be until 2025 that the full picture will emerge, but all I can tell you is that I'm very happy playing on the LIV circuit and will continue to do so until I am told otherwise."
Asked whether that means that he will be applying to renew his DP World Tour membership next season and play a combined schedule, he says: "No, I've no plans to get back on the DP World Tour. At the stage I'm at in my career, I have to ask myself how many more DP World events am I actually going to play? I'm really happy with the schedule that we've got with LIV, especially with the expanded number of events we've had this year, and if I do need to play more there are always Asian Tour events that I can play in, such as the one they are hosting at Close House next month."
Bland, or rather LIV, paid up the £100,000 fine that he was issued for playing at the launch event at Centurion Club last year, although this time around there will be no fines due to having handed back his DP World membership and also because of the new alliance between the three tours. After having got to the know the course last year, Bland is keen to get back there and see if he can improve on the 31st place he achieved 12 months ago.
"I was very impressed with Centurion, it was a good test, with some strong holes. I remember it was quite breezy that week, which made life tough, especially on some of the holes that are more exposed around the middle part of the course, and when you came into the trees the wind was swirling around, so it was certainly a challenge. It will be interesting to see how it plays this year with the hot weather we've be having, so I expect it will be playing quite firm and fast, but I'm really looking forward to getting back there at what will be the first tournament venue that LIV has returned to."
After over 25 years playing 72-hole stroke play events with a cut, Bland, like all the other LIV golfers, has had to adapt to the new 54-hole format, where there's little time to recover from a bad start. However, without a cut, Bland says there is more time than you think to work your way into the mix. 
"I would probably prefer Champions Tour because it's a little more competitive"
"With any tournament, if you shoot a poor first round you're putting yourself behind the eight ball, but with LIV you've at least got 36 holes to rectify it, whereas if you shoot three or four over in the first round of a traditional tour event you're probably going home unless you're the same under par for the second round. So yeah, it is it is a little different, but I'm enjoying it."
Are there Similarities Between the LIV & Ryder Cup Team Aspect?
While baring the Ryder Cup, team events are not part of the DP World experience, Bland is also enjoying the team format of LIV, and has built up solid bonds with his fellow Cleek GC players, Martin Kaymer, Graeme McDowell and Bernd Weisberger.
"I've really like the team aspect of LIV," he says. "Although we are all still playing as individuals, it's been nice to get to know the guys on a more personal level. We all get on great and it's been nice to spend time with them all on and off the course – playing practice rounds, having dinner and that sort of thing. We've got a good team spirit going and it really spurs you on to want to try to contribute to the team."
Having just turned 50, Bland has one eye on extending his career on the over-50s circuits, but is already leaning towards the PGA Champions Tour in America rather than the Legends Tour, the European equivalent.
"Yeah, I would probably prefer America because it's a little more competitive, and less about Pro-Ams. Obviously, there is a bit more travel involved but a lot of European guys have gone over there and done well, so it's something I'd defiantly consider if the opportunity arose."
Of more immediate interest is his imminent appearance at The Open Championship at Hoylake next month, where he will be teeing it up in golf's oldest major for what will only be the fifth time of his career. Asked what expectations he has of his return to major championship golf for the first time since last year's Open at St Andrews,, Bland says:
"I'm really looking forward to it. I'm sure it's going to be a great event, and I'm delighted to be a part of it. Hopefully, the weather will be kind, but given the last few weeks it's bound to be fast and fiery. I'll head up there the week before and get my bearings, as it's been a long time since I last played Hoylake, but I love the challenge and the creativity required for links golf. I'm not the longest off the tee, but I can generally keep it play, so hopefully that will serve me well."