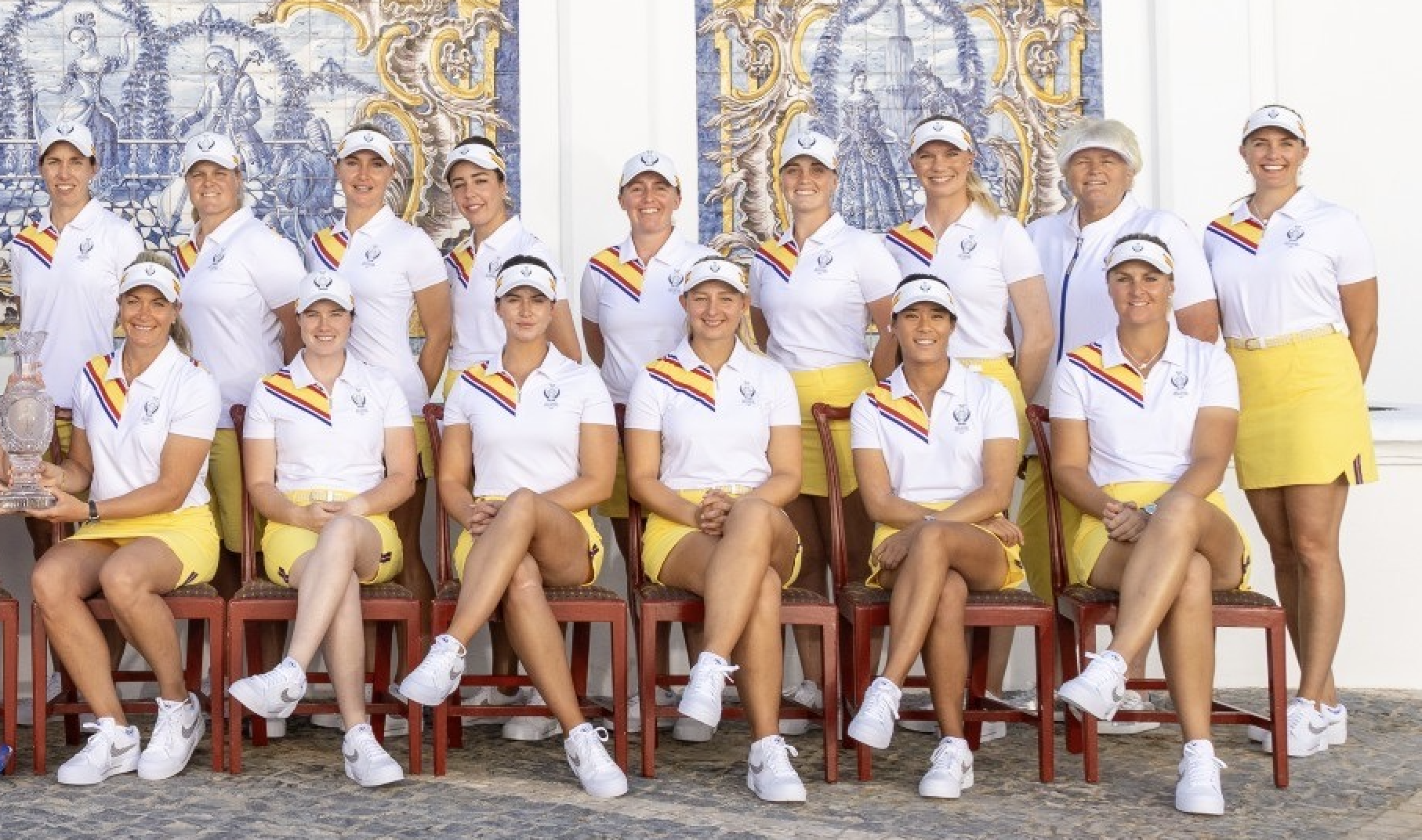 Captain: Suzann Pettersen Vice-Captains: Anna Nordquist, Laura Davies, Caroline Martens
Average Age: 29 Average World Ranking: 41
CELINE BOUTIER (FR)
AGE: 29 WORLD RANKING: 3
APPEARANCES: 2 RECORD P7 W5 L1 H1
Boutier topped the Solheim Cup points standings thanks in part to her back-to-back victories at The Evian and the Women's Scottish Open earlier this summer. She made an impressive Solheim Cup debut in 2019, where she won four from four at Gleneagles, and is a two-time winner after winning 1.5 in Ohio in 2021. In the form of her life, it would be a major surprise if the world no.3 didn't play in all five matches.
MAJA STARK (SWE)
AGE: 23 WORLD RANKING: 40
APPEARANCES: Rookie
Stark, who clinched the second spot in the qualification list, turned pro just two years ago but has already won six times on the LET, including the 2022 ISPS HANDA World Invitational, which secured her membership of the LPGA Tour.The 23-year-old was part of the Junior Solheim Cup team in 2017 and will now be teeing it up as a rookie in the senior event, and can expect to be paired up with a more experienced partner in the fourballs and foursomes.
CHARLEY HULL (ENG)
AGE: 27 WORLD RANKING: 9
APPEARANCES: 5 RECORD P19 W11 L5 H0
This will be Hull's sixth consecutive Solheim Cup, having made her debut in 2013 aged just 17. She has been on the winning team three times and has a 65% win record, bagging 12.5pts from her 19 matches. A long hitter with an excellent short game, Hull has a superb foursomes record – just one defeat from seven matches ­– and will not want to be sitting out any of the sessions. Two runner-up finishes in this year's majors will have been frustrating for her personally, but she can put that behind her with a team win here.
LEONA MAGUIRE (IRE)
AGE: 28 WORLD RANKING: 14
APPEARANCES: 1 RECORD P5 W4 L0 H1
After an outstanding rookie performance in Toledo in 2021, where she earned 4.5 points out of 5, Maguire joins Team Europe having won two LPGA Tour events in the last 18 months and risen to 14 in the world rankings. A fierce competitor who loves the cut and thrust of match play, her captain will be expecting her to play in a leading role in retaining the cup for the home side.
GEORGIA HALL (ENG)
AGE: 27 WORLD RANKING: 16
APPEARANCES: 3 RECORD P13 W7 L5 H0
Hall will be making her fourth Solheim appearance after making her debut in 2017 and being on the winning team for the past two. She has not enjoyed her most productive seasons by her own high standards, but seven-10s, including two runner-up finishes at the start of the year, have seen her maintain her position inside the world's top 20. She won all four of her matches in 2019, but just one in 2021, so will be looking to improve on that stat as Europe goes in search of a third straight win.
LINN GRANT (SWE)
AGE: 24 WORLD RANKING: 19
APPEARANCES: Rookie
One of three rookies in the team, the Swedish star has won five times on the LET in the past two seasons including at the 2022 Scandinavian Mixed where she became the first woman to win a DP World Tour event, and she recently secured her maiden victory on the LPGA Tour at the Dana Open in July. It will be interesting to see who see gets paired up with in the foursomes and formats, especially given that there are three other Swedes in the team.

CARLOTA CIGANDA (SPN)
AGE: 33 WORLD RANKING: 33
APPEARANCES: 5 RECORD P19 W7 L8 H4
The 33-year-old from Pamplona will be making her sixth consecutive appearance in the Solheim Cup and will keen to put in a strong performance in front of her home fans. She has lost more Solheim matches than she has won – and has only won four of his last 16 matches – but she will arrive in Spain in decent form, having won an Aramco Team Series event in May and secured six top-20 finishes in her last eight starts.

ANNA NORDQVIST (SWE)
AGE: 36 WORLD RANKING: 37
APPEARANCES: 8 RECORD P27 W14 L10 H3
The experienced Swede will be performing the unusual role of a playing vice-captain in Spain after she secured her place in the final automatic qualifying spot via the world rankings.She will be making her eighth consecutive appearance in the competition having won 15.5 points from 27 matches and could be a solid partner for either of the two young Swedish rookies.
GEMMA DRYBURGH (SCO)
AGE: 30 WORLD RANKING: 48
APPEARANCES: Rookie
A captain's pick, Dryburgh has taken time to break into the upper echelons of the game but she did that in fine style when winning the LPGA Tour's Toto Japan Classic in November last year. Since then, the Scot has enjoyed a consistent run of results competing across both tours, with just two missed cuts from 17 events, and with an eighth-place finish at the Evian Championship being her best performance of the year. Likely to play two or three matches at most given her lack of experience.

MADELENE SAGSTRÖM (SWE)
AGE: 30 WORLD RANKING: 42
APPEARANCES: 2 RECORD: P6 W2 L4 H0
This will be Sagström's third appearance in the Solheim, having made her debut in 2017 and being part of the winning team last time out in Toledo, but it will be a her first appearance on European soil. A captain's pick, it is slightly worrying that she has missed the cut in three of her last four events, but prior to that she had a decent run of results and had a good season in 2022. The Swede won both her Solheim singles, but lost all four matches in the other formats.
EMILY KRISTINE PEDERSEN (DEN)
AGE: 27 WORLD RANKING: 114
APPEARANCES: 2 RECORD: P7 W3 L4 H0
Dividing her time between the LET and LPGA Tour, Pedersen is five-time winner on the former. She will be teeing it up in her third Solheim Cup after she made her debut in 2017 – where she lost all three of her matches – and rolled in the putt that sealed victory on American soil in 2021. With her last victory coming at the Spanish Open in 2020, she has experience a far from stellar season to date, with her one and only top 10 coming in February at the Saudi Ladies Invitational.
CAROLINE HEDWALL (SWE)
AGE: 34 WORLD RANKING: 120
APPEARANCES: 4 RECORD: P15 W8 L6 H0
Probably the final captain's pick based on her lowly world ranking, Hedwall hasn't played in the Solheim since losing both of her two matches in 2019, while picking up just one point in 2017. The big-hitting Swede secured her seventh LET title, the Andalucía Open de España, at the end of last season, so is no stranger to winning in this part of the world, but she will have to recover the match play form that saw her bag the maximum five points in 2013 if she is to justify her selection this time around.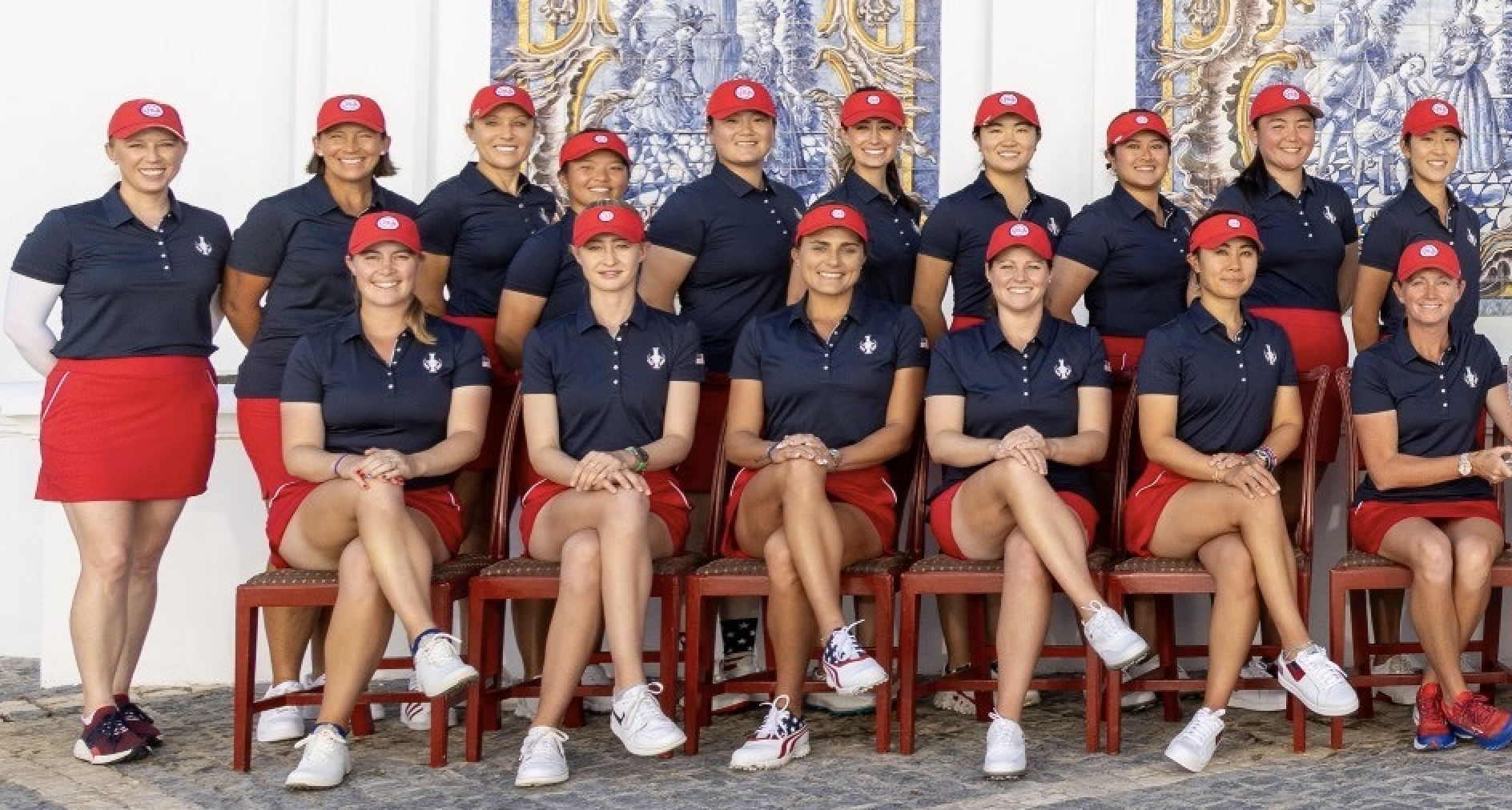 CAPTAIN: Stacy Lewis VICE-CAPTAINS: Angela Stanford, Morgan Pressel, Natalie Gulbis
Average Age: 26  Average World Ranking: 25
LILIA VU
AGE: 25 WORLD RANKING: 1
APPEARANCES: Rookie
The former world amateur no.1 turned professional in 2019, and after missing the cut in her eight of her first nine events on the LPGA Tour considered giving up the professional game. Unfortunately for her rivals she changed her mind and is now no.1 in the world following a string of victories this year, including two majors – the Chevron Championship and at the Women's Open at Walton Heath last month, where she won by six shots.
NELLY KORDA
AGE: 25 WORLD RANKING: 2
APPEARANCES: 2 RECORD P8 W5 L2 H
The youngest of the Korda sisters, Nelly has 12 international victories, her best season being in 2021, the year she won four times, including her first Major and a Gold Medal at the Tokyo Olympics. This season she has won the Aramco Team Series event at Centurion Club and bag seven other top finishes. Supremely consistent, she has a strong Solheim Cup record, but will be without her sister Jessica as a natural partner this time around.
ALLISEN CORPUZ
AGE: 27 WORLD RANKING: 8
APPEARANCES: Rookie
After turning pro at the relatively late age of 25 following her appearance in the 2021 Curtis Cup, Corpuz made her first tour victory a big one when capturing the US Open at Pebble Beach in June, which saw her shoot up the world rankings. Fourth at the Chevron and sixth at the Women's Open, she's clearly a big match performer and must be one of highest ranked rookies ever to play in the Solheim Cup.
MEGAN KHANG
AGE: 25 WORLD RANKING: 27
APPEARANCES: 2 RECORD P6 W1 L3 H2
Khang qualified for the 2012 US Women's Open at the age of 14 and played on the US Junior Solheim Cup team in 2015. She graduated to the LPGA Tour in 2016, but it has taken until last month to record her first win, which came at the CPKC Women's Open the day before the Solheim Cup team was announced. She has had three top 10s this season, but all of them were at Majors. She has won just two points for her two Solheim Cup appearances.
JENNIFER KUPCHO
AGE: 26 WORLD RANKING: 28
APPEARANCES: 1 RECORD P4 W2 L1 H1
Another of the US team's former world no.1 amateurs, Kupcho won of the inaugural Augusta National Women's Amateur in 2019 and turned pro shortly after. She won her first Major in 2022 at The Chevron Championship with two holes in one and breaking the record for lowest 54-hole score at 16 under par. She recorded two other wins that year, but is winless in 2023, missed the cut in four of the five majors and has just two 10-finishes. A Solheim rookie in 2021, she won 2.5 points from her four matches.

DANIELLE KANG
AGE: 30 WORLD RANKING: 29
APPEARANCES: 3 RECORD P12 W5 L7 H0
Kang won the Women's Amateur in 2011 and 2012 and has six LPGA victories on her CV, including the 2017 Women's PGA Championship. She has had three top-10 finishes this season with a best third in the Women's World Championship, but has missed the cut in three of her last four events. She has lost more Solheim Cup matches than she had won.
 LEXI THOMPSON
AGE: 28 WORLD RANKING: 21
APPEARANCES: 5 RECORD P19 W6 L7 H7
Playing in her sixth Solheim Cup, Thompson is by far the most experienced member of this year's US team, with 19 matches under her belt going back to 2013. The Floridian has been on the winning side twice and has won six matches in total. With 13 career pro wins, including one major (2014 Kraft Nabisco), she has not done a great deal this season, missing five cuts in her last eight events and a best placed third in the Saudi Ladies International.
ROSE ZHANG
AGE: 20 WORLD RANKING: 31
APPEARANCES: Rookie
Zhang signed off from a stellar amateur career with victory at this year's Augusta National Women's Amateur, after winning the US Amateur in 2020. Turning professional in May, she won the first tournament she played, the Mizuho Americas Open and has since gone on to finish inside the top 10 in the last three majors. A veteran of two Junior Solheim Cups in 2017 and 2019, both of which the US won, she can expect to play in at least four matches in Spain, if not all five.
ANGEL YIN
AGE: 24 WORLD RANKING: 32
APPEARANCES: 2 RECORD P6 W3 L2 H1
A two-time winner of the Junior World Golf Championship at age 8 and 12, she turned pro in 2016 and won her first and to date only tournament win at the co-sanctioned Dubai Ladies Classic in 2017. This season she has tied for second in the Chevron and finished sixth at the Women's Open last month. She played in the 2015 Solheim Cup and has a 50% percentage in her six matches in the main event, although has been on the losing side both times.
 ANDREA LEE
AGE: 25 WORLD RANKING: 43
APPEARANCES: Rookie
A winner of 50 amateur titles in her junior and college career, Lee is former Curtis Cup, Junior Ryder Cup and Junior Solheim Cup player. She turned pro in 2019 and to date has recorded just one win at the Portland Classic in 2022. This year she has missed the cut in seven of her 16 appearances but has three top-15s in her last three, including ninth at the Women's Open.
ALLY EWING
AGE: 30 WORLD RANKING: 34
APPEARANCES: 2 RECORD P8 W2 L5 H1
After a successful amateur career Ewing turned pro in 2015 and has played on the LPGA since 2017, garnering three wins, the most recent of which was . This season has seen her bag four top-10 finishes, including a tied sixth at last month's Women's Open. A late call up for the Solheim Cup in 2919 due to Stacy Lewis' injury, she is one of two captain's picks, and seems unlikely to play a major role in this year's matches.
CHEYENNE KNIGHT
AGE: 26 WORLD RANKING: 44
APPEARANCES: Rookie
The second of Lewis's captain's picks, Knight is the lowest world ranked player in the US squad, but the fact that she is still well inside the world's top 50 highlights the strength in depth of the team. After turning professional in 2018, she has two LPGA wins to her name, the most recent coming at the Great Lakes Invitational just six weeks ago. Yet to have a top-10 in 22 major appearances, she may play just two or three matches in Spain for what will be her debut Solheim Cup.