Spain's Eugenio Chacarra won the Asian Tour's inaugural St Andrews Bay Championship after beating Australia's Matt Jones in marathon play-off that lasted 10 extra holes.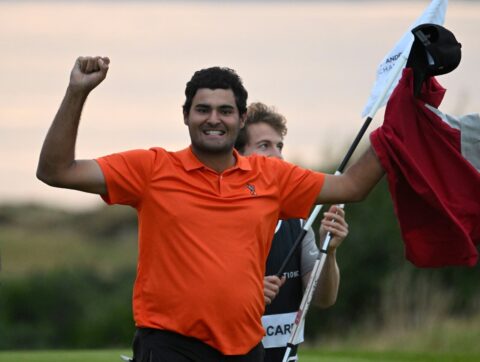 In fading light at Fairmont St Andrews, on Scotland's east coast, Jones appeared out of it on the third extra hole, but sensationally chipped in from 25 feet to keep his chances alive. The pair then played the par-five 18th seven more times before Chacarra made a par when two putting from 30 feet, while Jones missed a five-footer to hand the title to his 20-year younger rival.
Both players had birdied the final hole in normal time to finish tied on 19-under, with Chacarra carding a five-under 67 and Jones a 69. Australian Andrew Dodt and Jaco Ahlersfrom South African finished one shot shy of the play-off.
"It was a long day," said Chacarra, who picked up $270,000 for the win. "I'm happy it came out my way, but I Matt had a tremendous day as well. ""It was amazing, I think the Asian Tour is doing amazing things. I mean, they're growing the game of golf and I had a lot of fun. We normally don't get these good days in Scotland, so it was awesome. I mean, obviously I got the win so it would make it a little more fun, but it was awesome. Yeah, thanks to the Asian Tour and International Series for what they're doing and hopefully we can come back a lot more years."
This is the 23-year-old's first 72-hole victory since turning professional last year, while he also claimed the individual title in last year's LIV Golf Bangkok.
Two-time Australian Open winner Jones, who, like Chacarra, plays on the LIV Golf League, was looking for his first win since the 2021 Honda Classic on the PGA Tour and felt it was his putting that let him down. He said: "I threw away the tournament with the way I putted. I missed a lot of short ones and my speed was terrible. I did hit some nice shots, and it's always good to get into contention, but I am done now, I am tired."
The play-off was just one short of the all-time longest sudden-death play-off, which took place at the 1949 Motor City Open, between Cary Middlecoff and Lloyd Mangrum, which lasted 11 holes before they decided to share the honours.