Spanish eyes were certainly smiling on Sunday at Finca Cortesin as home nation heroine Carlota Ciganda sensationally holed the putt that saw Europe retain the Solheim Cup as they tied 14-14 with the United States after a dramatic final day's play.
Ciganda holed a two-footer for birdie on the par-3 17th to beat Nelly Korda to end a tense six hours of singles match play action in Malaga. After being somewhat surprisingly being left out of the first morning's foursomes, the 33-year-old from Pamplona rampaged through the rest of the matches, winning four points and sinking the putt that retained the cup in front of thousands of adoring fans.
"I think it was meant to be. It came down to Carlota, in Spain, in her own hands," said European captain Suzann Pettersen. "I walked with her down 16 and said, 'Is this how you wanted it? Because it's all in your hands in now.' And she was like, 'I'm up for it'."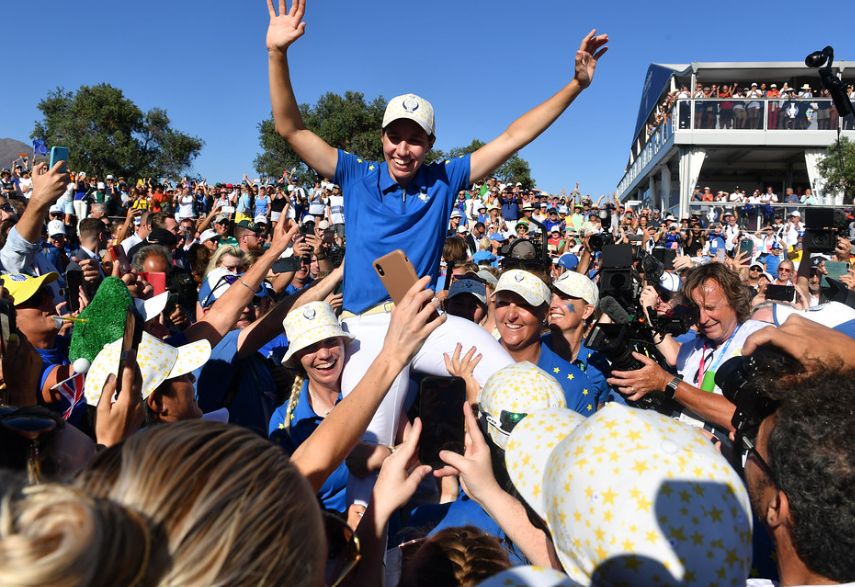 Ciganda added: "I'm so happy just to do this for Suzann, for Spain, and for Europe. I'm just so proud. I'm so happy to do this for everyone here – this is just amazing."
The teams were locked together at 8-8 heading into Sunday's 12 singles matches, with defending champions Europe needing to get to 14 to keep hold of the cup following their victory in Ohio in 2019. The US required 14½ points to regain the trophy they last won in 2017 and for large parts of Sunday looked like they were going to achieve their aim. But a thrilling final hour's play saw Europe fight back, as they had done since losing the opening session 4-0 on Friday.
The foundations for Europe's win were laid down in the earlier matches, with Leona Maguire, who played in all five sessions, beating Rose Zhang 4&3 victory that put Europe 9-8 ahead – the first time they had led in the match. The US responded quickly with Meghan Khang edging out Linn Grant in the first match 1up. The young Swede birdied the 16th hole, but missed hole-winning putts on the final two, while Charley Hull's difficult week ended with a heavy 4&2 defeat to Daniella Kang.
Veteran Swede Anna Nordqvist, who had lost all three of her matches earlier in the week, added some vital blue on the scoreboard by winning 2&1 against an out-of-sorts Jennifer Kupcho.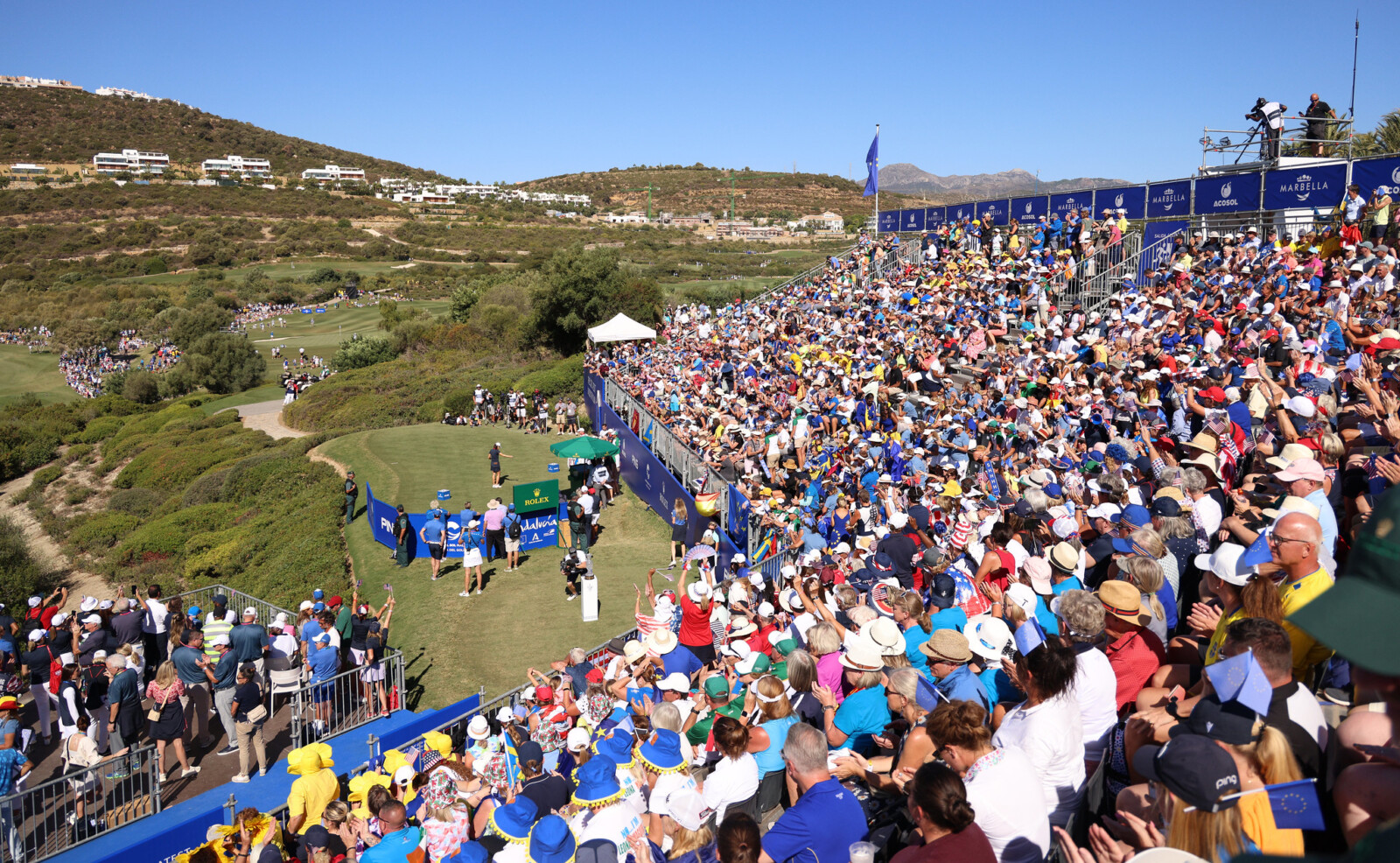 With Georgia Hall and Gemma Dryburgh holding 2up leads early in matches 5 and 6, things looked very good for the home side, but both let their leads slip, with Hall's putting touch deserting her on the back nine, and the resulting half points shifted the momentum back towards the USA, and even more so when Andrea Yin dispatched Celine Boutier 2&1 in match 7 and world no.2 Lilia Vu saw off Madelene Sagstrom 4&3.
Caroline Hedwall produced the most stunning turnaround, winning five of the last six holes to claim her match against Ally Ewing from three down after 12. The 34-year-old Swede, one of Pettersen's captain's picks and the lowest ranked player in the matches, repaid her captain in spades, holing big putts on 16 and 17 as she secured what turned out to be a vital point for the host side.
That left Europe still trailing 12-13, but moments later both Ciganda and Maja Stark missed putts that shifted the momentum back to the Americans. Ciganda's looked the costliest. She had led by three holes after eight, but world no.3 Korda kept chipping away at the lead and was all square after 15. Stark, meanwhile, was left one up with two to play against US Open champion Allisen Corpuz.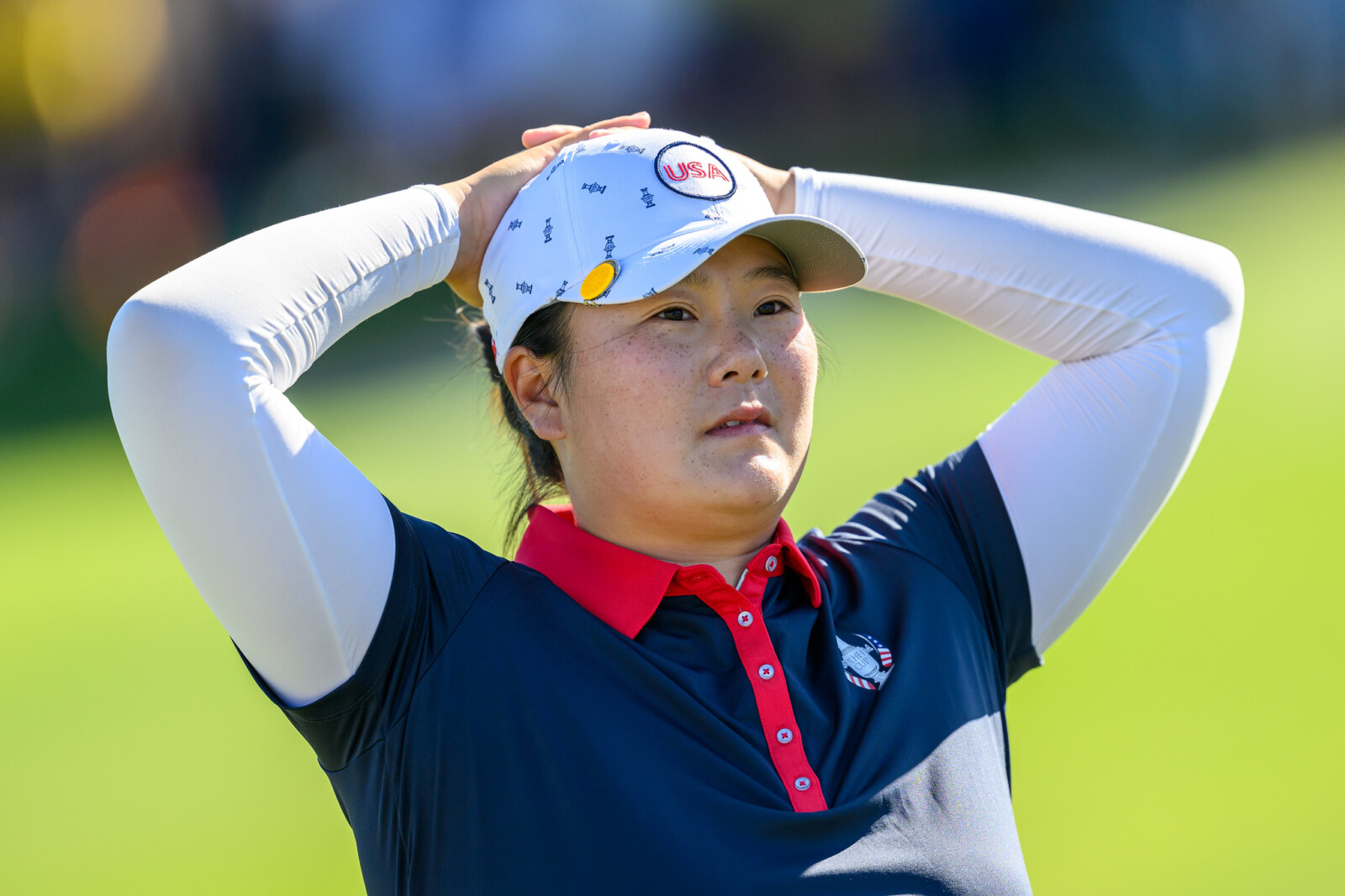 Korda further ramped up the pressure when hitting her second into the par-four 16th to six feet, but Ciganda responded with interest, firing her ball in to two feet. Korda then nervously stabbed her birdie putt wide, while the Spaniard tapped in hers to regain back the momentum at a vital stage of the match.
Meanwhile, Corpuz generously conceded a two-foot putt on the 17th that gave Stark a 13th European point and set the scene for Ciganda to deliver the coup de grace. And the nerveless Spaniard duly delivered. She almost holed her tee shot on the 145-yard 17th, and a stunned Korda leaked her tee shot left and could only chip five feet beyond the hole and convert for par, leaving Ciganda to win the crucial 14th point when holing out from two feet. Cue a mass invasion of the green and wild celebratings among the European squad.
The final pairing, Emily Pedersen and Lexi Thompson, were still out on the course, with the American holding a 1up lead playing the 17th, but Europe still with a chance to win the cup outright. Once the green had cleared, both players found the green with their tee shots, and Thompson calmly stroked in her birdie putt to beat her Danish rival 2&1, although it was small consolation given that her victory could not affect the ultimate destination of the trophy, which see Europe celebrate its first ever hat-trick of wins in the matches.
With US captain Stacy Lewis already selected to lead the team for the home matches in Virginia next September – as has Suzann Pettersen – the opportunity for swift revenge, or for European to chalk up a fourth successive win, are just 12 months away.