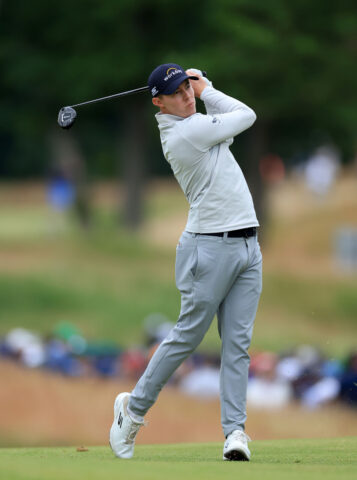 Reigning US Open Champion Matt Fitzpatrick is joining Tiger Woods, Rory McIlroy, Justin Thomas, Jon Rahm, Adam Scott and Collin Morikawa as players committed to play in TGL, a new made-for-TV simulator golf league that will begin  in 2024.
"Blending global superstars with the next generation of emerging champions like Matt Fitzpatrick is foundational to forming the six TGL teams," said TMRW Sports CEO Mike McCarley, who co-founded TGL with Woods and McIlroy. "Fitzpatrick is a major champion who will be a stalwart of the European Ryder Cup team for the next decade. Adding a young, world-class player from England, who has won consistently all around the world, expands the global reach of committed TGL players ranging from Australia, Northern Ireland, Spain, and the U.S. with TGL's first seven players announced."
Fitzpatrick, who lives in Florida and competes in a global schedule, said: "While teeing it up with the world's best has been a highlight of my career so far, this opportunity to compete in TGL is taking that experience to a whole other level. TGL combines world-class players in a team format within an arena environment for a global television audience. With a formula like that, it will create another platform for fans, especially young fans, to see our sport shine on a new stage."
In partnership with the PGA Tour, the TGL will consist of a 15-match regular season schedule with playoffs to follow. The six teams of three players will face each other in two-hour head-to-head matches that will have a live audience as well being broadcast on television on Monday nights.
Players will strike full shots – both off the tee and approaches into the green – into a simulator while short-game shots will take place in front of fans in a new arena built on the Palm Beach State campus in Florida. Further player announcements are expected in the coming months.