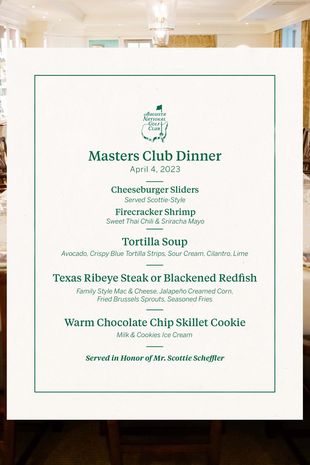 Scottie Scheffler has announced the menu that he will be serving for the champions' dinner to be held on the Tuesday of the Masters Tournament week at Augusta National next month.
The 2022 champion has opted for a four-course meal which leans heavily on his Texan roots.
First up, appetisers include a 'cheeseburger slider', which will served 'Scottie-Style', and a firecracker shrimp dish.
The starter is tortilla soup,  a traditional Mexican dish consisting of fried corn tortilla pieces submerged into a broth of tomato, garlic and onion. It is served with chillies, avocado, fresh cheese and sour cream.
There are two options for the main course, with meat lovers being offered Texas ribeye steak, while fish fans have the choice of a blackened redfish. Side dishes include mac & cheese, jalapeño creamed corn, fried Brussels sprouts and seasoned fries.
If anyone has any room left for dessert after that lot, Scheffler has chosen to offer his guests a warm chocolate chip skillet cookie with milk and cookies ice cream to round off the feast.
Invitations to the dinner are restricted to past Masters champions and Fred Ridley, the chairman of Augusta National Golf Club. Three recent Masters champions, Dustin Johnson, Patrick Reed and Bubba Watson, have all joined LIV Golf, although it is understood that they will not be given their own separate table to sit at for the dinner.