ON THE IMPACT OF MODERN EQUIPMENT ON THE PROFESSIONAL GAME….
Modern equipment makes the game too darn easy for tour pros. The sweet spot on a driver in my day was the size of a pea, not far off. If you hit it with the heel or the toe of a persimmon driver it would go absolutely nowhere. There was a time when only a dozen of us on tour who were great ball strikers. Now there's only a dozen who aren't. We got excited when Seve had a go at the 10th green at the Belfry, which. back in the day. was a 240-yard carry. Now we have guys having a go at the green on 400-yard holes. The excitement is still there in the game, but it's just a different animal.
ON THE PGA TOUR'S DEAL WITH THE SAUDI PIF AND THE IMPACT OF LIV GOLF….
I think when the dust settles, whether it takes six months, a year, or whatever, my goodness, professional golf is going to be in an overall better position financially than we were back in the day, but no-one knows what the overall picture will look like yet.
I would love for the world of golf to come together, but there was some kind of route around the world. South Africa, Australia and Japan all have great tours and they will need to be included in the bigger picture, it can't just be all about America.
From a purely playing perspective, I feel that they LIV Golf events are meaningless and are not growing the game of golf in quite the way that they say it is. Only half-a-dozen players are really relevant in terms of their status within the game – half of the field I don't really know, and the rest are there for the very nice money that you still get if you shoot whatever-over-par.
Secondly, nobody's really interested in the team aspect of it because it doesn't feel like a team event. They call it a team event, but it's not because it's stroke play. You see your mates on the putting green and say, 'Play well' and you see them in the scorer's tent and say, 'What did you shoot?' That's it. A team is out there helping each other, shoulder to shoulder. That's a true team. They're not playing with anywhere close to the same passion and atmosphere that you see at the Ryder Cup.
ON HIS MOTIVATION FOR SETTING UP THE FALDO SERIES…
I was playing in America with Ray Floyd's son back in the late 1990s and asked where he was playing next. He reeled off all these tournaments and I thought, 'Wow, we need to create more opportunities for young players back in the UK.' I thought a cool prize was to get the kids out of the dreaded British winter so we took the winners to Orlando in Florida. Originally it was: 'Where is the next Nick Faldo coming from?'The kids love it and I get a real kick out of that. I go to all the finals. I was with them at Brocket Hall in July when they were all telling me how much they wanted to win to get to the UAE, again to get out of the winter. We have had very young kids travelling the world, providing great experiences for them and I'm very proud of what we have achieved over the last 27 years and looking back at the number of players we've brought on. A skinny lad called Rory something being one of them…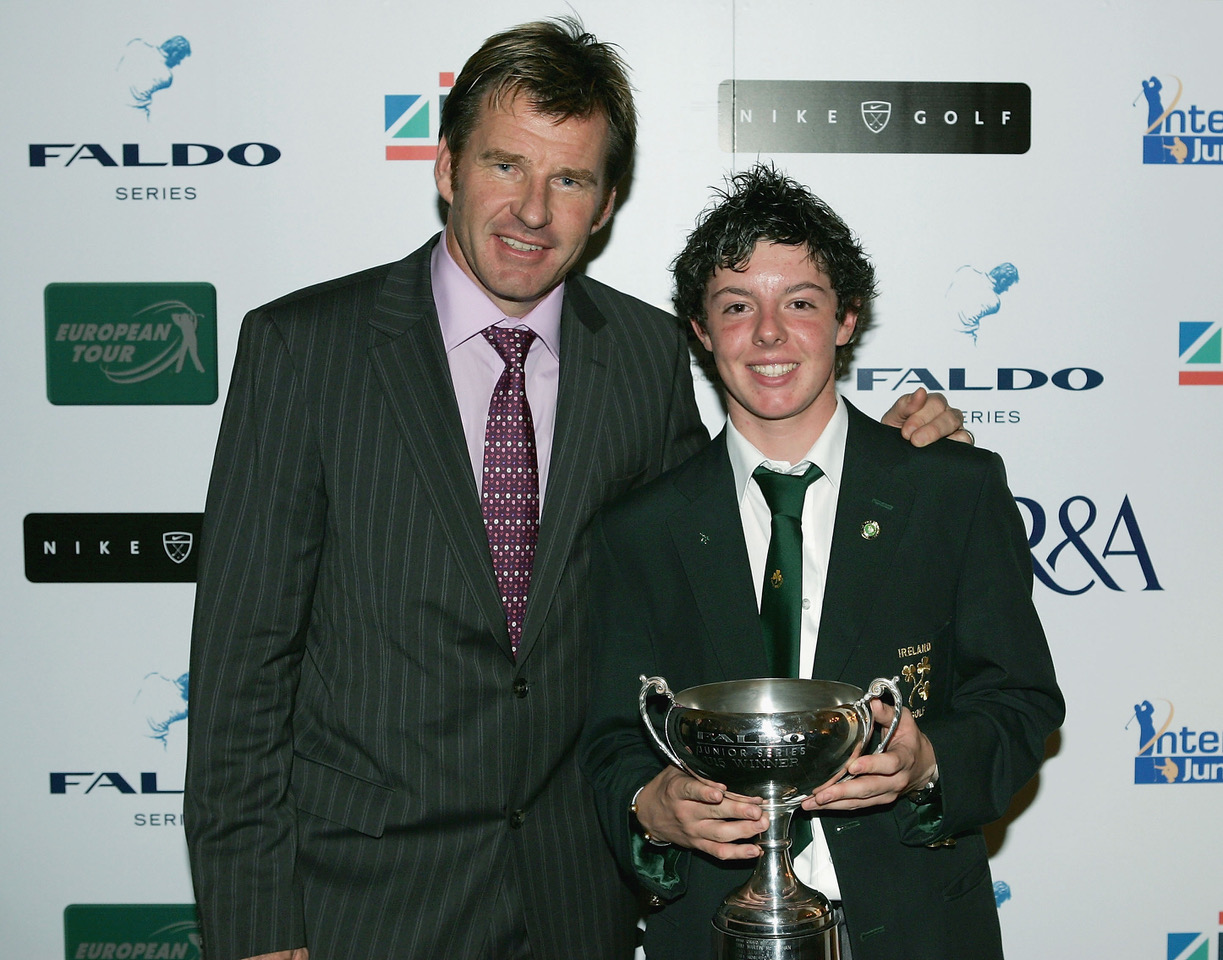 ON HANGING UP HIS COMMENTATOR'S MICROPHONE ON THE PGA TOUR…
I just got tired of all the travel. I was on the road for six months of the year. It was a great job, but 40 years of travelling suddenly hits you. I've not totally given up commentary work, as I did some work at the Masters, and the Open and I'll be doing some more at the Ryder Cup. I definitely enjoy those big events, and it helps me stay in touch with the game.
ON HIS WANING POWERS AS A GOLFER…
I was a really good golfer half my lifetime ago. I would love to be able to play how I used to, but it doesn't last more than three shots. That hurts me, even now, aged 66. I played the other day and was three under after nine. Next time, I was seven over after nine. I'm not interested when I'm clanking shots. You can't just dust the clubs off and have half a dozen stretches. We travelled hard, played hard. The old golfing batteries are just worn out.