After enjoying sell-out crowds at its first event in Australia and seeing some of its leading lights enjoy high finishes at the Masters, LIV Golf appears to be on the verge of gaining a level credibility, despite its lack of team sponsors, mainstream TV coverage or world ranking points for its players. Here, LIV Golf CEO Greg Norman provides his thoughts on where the Saudi-backed tour is going and the prospect of the on-going feud with the PGA Tour and the DP World Tour ever being resolved
It probably wasn't all that surprising to you that the LIV Golf Adelaide event was so well attended given your legacy and influence in Australia, having Cam Smith in the field, and the fact that Australians rarely get to see truly international fields play, but how pleased were you to see a full house and a tournament with a proper atmosphere?
GREG NORMAN: It's true that Australia has never seen the best of the best competing there on a regular basis. Yes, we've had the Presidents Cup and the World Cup, and other tournaments, but what we, LIV Golf, were bringing in terms of an event, had never been brought before, and that was rewarded with the size of the galleries, the tickets that were sold, and the reaction of the fans that came.
We are here for the long-term, and we want to create an economic impact to this region that's never been done before through the game of golf, and I think we're delivering on that now.
Looking at the galleries at LIV Golf tournaments, it looks like you're attracting a much younger crowd with the type of event you put on, with all the music, hospitality etc. How important is bringing in new audiences to the game to the overall LIV Golf concept?
From our research the average age of fans at our events is around 45, which is about 20 years younger than on the PGA Tour. I hope we can reduce the age of our fan base into the mid-30s, but we are reaching down much faster than I thought we would. There's no doubt that LIV Golf has shaken up the demographics of the golfing audience.
Given the limited size of the fields, there is clearly a danger that it could all become a bit samey. What are your plans for bringing in new players and perhaps dropping some of those that are consistently at the bottom of the leaderboards?
Will there be relegation? Absolutely there's going to be relegation. We're a league, so there will be a relegation system in place like any other league, so there will be this pathway system we talked about with the Asian Tour and other opportunities, as well. As we look into the future, new players will want to come on board with us, and others will move on. But some of our top players are under contract four or five years, so clearly they will be around for a longer period of time, but we will always look to bring in new talent.
You, and LIV Golf in general, make a lot of noise about the team element – the 12 franchises, as you call them – but do you really feel like the fans buy into that part of LIV?
Look at what Kerry Packer did with cricket, what they're doing in India with the IPL. Those teams are drawn from players from all over the world, with no particular geographical affiliations, yet that draws in big audiences and huge commercial support. Nobody is really focusing in on that, that we, LIV, identified that opportunity, and that's the product. One franchise in the IPL. sold at the end of last year for $900 million. Where cricket has gone in the last 25 years to where it is today, is nothing short of extraordinary. So, as look at it from a LIV Golf perspective to see the opportunity of how this can grow out today, it's just incredible.
Cricket has always been a team sport, so there are clearly values in those teams, but golf, outside of a couple of high-profile events, it is an individual sport, so it's hard to say that the two are comparable models.
We do have international teams. We have a South African team. Some are all over the place. I think that's the beauty of our model, that we are capturing this fan base from around the world. It's not just specifically in one country. Golf is a global sport, has been for a century, and it'll continue to be that way. The Asian Tour was a sleeping giant. So one of my first initiatives as I came in is we invested $300 million into the Asian Tour to wake up this sleeping giant of this incredible pool of talent that's sitting there. This incredible pool of corporate dollars sitting there waiting.
You talk about LIV Golf being here for the long-term, but where do you see it being in two or three years? Do you hope that the PGA Tour and the DP World Tour can come together with you to co-exist, with players from all tours free to play where and when they want?
Look, we are not going anywhere. LIV is here for a long, long period of time. We've said that from the outset. We've also said that we want to coexist within golf's ecosystem. From my perspective, it's a product. We have a product that the fans want. And you have other products, too. You have the PGA TOUR, you have the DP World Tour, you have the Asian Tour, you have the Japanese Tour, and all the other tours. Happy days to all that. There's nothing wrong with that. Since day one we have encouraged all of our players to go and play other tournaments if they want. If they want to stay with LIV and solely LIV, happy days, that's their choice as an independent contractor, but outside of our events they're free to play wherever they want.
We want to be part of the system. They've made their decision, and we've made our decision, but it's their choice of what they want to do, and if they want to keep putting up roadblocks. We're not going to go anywhere.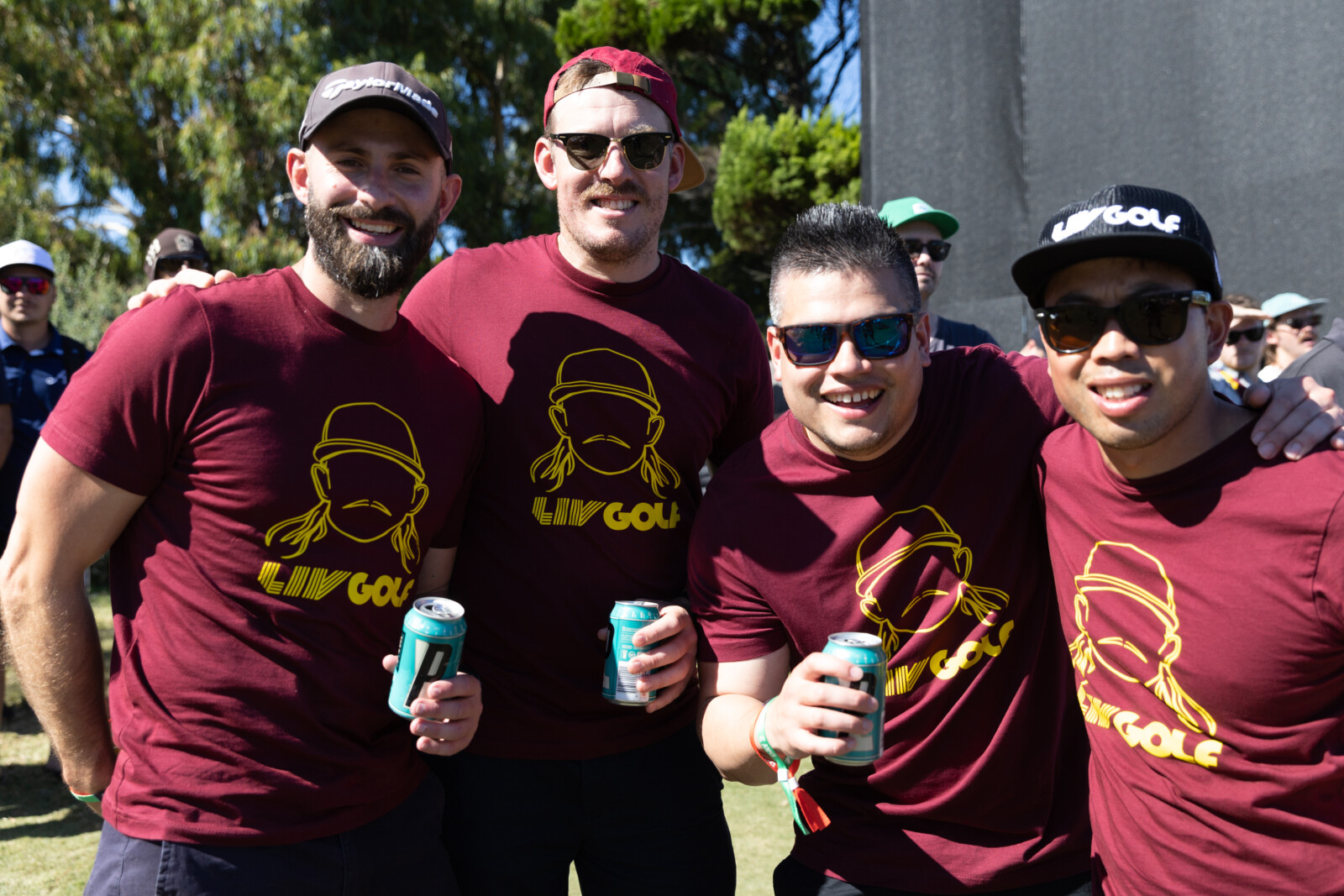 Talking of roadblocks, with the DP World Tour winning its arbitration against LIV Golf in February, can there really be any mutually beneficial cooperation between your two tours and do you have any plans to appeal that decision? Are they going to revoke the DP World Tour memberships of LIV Golf players?
Well, I'm not going to go down the legal path and answer questions on behalf of other players. Remember, you used one word there and that was 'arbitration'. It wasn't a court of law. Arbitration is different. It was a prerequisite of some of the writing in the agreement of how it had to take place. That's arbitration. Things will play out as they should rightly play out in a court of law, and that's the way it goes. Like I said, I won't answer on behalf of the other players, but from a LIV perspective, we'll always support our players. We've said that since day one. We believe in where we're going, and we're going to be unwavering in that commitment.
I truly hope somewhere down the line that we can all co-exist and that the best players in the world get to compete in all the majors, play in the Ryder Cup and the Presidents Cup, and the big tournaments, because that's what golf fans want to see.
Putting my player's hat back on, I do hope we get to a position where there is resolution to this, because the game of golf doesn't need to suffer. These tours don't need to suffer, the world ranking system doesn't need to suffer.
We've always said that we're happy to sit down and talk with anybody and everybody, which we did with the DP World Tour, but we've have had little or no response. We're okay with that, so we'll just keep going and doing what we're doing.
We you surprised by the fact that the Saudi involvement in LIV Golf resulted in such a strong reaction in some quarters?
Yes and no, to some degree, but do the people really understand the facts of the PIF and what they've invested in? Maybe not. The facts are the PIF invested in Boeing, so if you've ever been on a commercial flight somewhere on a Boeing aircraft, the PIF has invested in that. The fact, have you ever bought a ticket to a Live Nation show? The PIF invests into that. Have you ever played an EA Sports game? PIF has invested in that. Have you ever used Facebook? PIF has invested in that. Have you ever used Uber? The PIF has put a lot of money into that too.
The PIF has invested in other sports too, and they'll continue to invest in sport because sport is now looked on as an asset class. They understand the market, where they want to invest. Whether it's direct or indirect, they want a return on their investment. Golf is no different. And from a LIV Golf investment standpoint, the value that golf has produced around the world, globally, has just been incredible; from education to investment to hospitality, to agronomics, to health and wellness. The list goes on.
Will there ever be a women's LIV Golf Tour?
That is a discussion we have internally on a regular basis. I have personally had discussions with individual LPGA Tour players, LET players. They love what our product is showcasing. They ask all the time, how can we get involved, we'd love to see a LIV Ladies series, but right now our focus is on making the product that we have now the best it can be. I'm sure there will be opportunities down the line.
Knowing what you know now, just over a year into LIV's existence and all the ructions it has caused, if you could go back in time would you say that it has all been worthwhile?
I'm proud of what I've done for the game of golf. I'm proud of what I've done investing into the Asian Tour. I'm proud of the opportunity we've given to our principal players. I'm proud of what I can do for the investor to get a return on their investment over a period of time. I'm proud of the fact that golf diplomacy is prevailing over being a monopolist. I'm proud of the fact that we are showing that golf is a force for good.